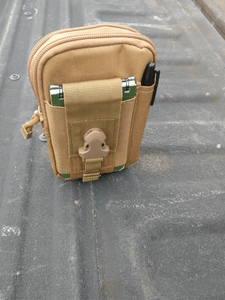 NEW Hunt-Tag Product: Tech Pouch
Now that some states require a smart phone for certain methods of tagging why not keep your phone, hunting tags, and other gadgets protected from the elements with a convenient Tech Pouch. Large enough to accommodate most of the largest smart phones, but not bulky or cumbersome. This Tech Pouch is perfect for organizing all that little gear that is nice to have easy access to. Ideal for smart phones, GPS devices, battery packs, note pads, knives, compass, rangefinder, hunting calls, and of course your Hunt-Tag Kit. With a multitude of attachment options, you can attach this pouch to you or your pack in just the right spot to work with your current system.
We have tested several different designs and settled on this one because of its many features, but mostly it was the size that sold us on this one. The Tech Pouch measures in at 5.00" X 7.00" X 2.00". This turns out to be the perfect size to fit most cell phones while still allowing some room for other gear and gadgets. I like to set mine up with my phone, battery charger, Rite in the Rain notepad, extra knife, extra elk calls/reeds, Hunt-Tag Kit (which comes with any purchase of a Tech Pouch), and sometimes my truck keys.
Each Tech Pouch comes with a Hunt-Tag Kit for your State, which includes:
3 – Hunt-Tags for the State of your choice (Replacement cards available here)
3 - Reusable Zip Ties
1 - Permanent Marker
1 - Safety Pin
Another nice feature of the Hunt-Tag Tech Pouch is the variety of options for attachment. The Molle/PALS system on the back of the pouch allows for attaching to basically anywhere on your hunting pack, belt, or binocular harness. I typically run the pouch on the belt of my pack but will occasionally unhook from my pack and carry it straight on my belt depending on what I am doing. There is also a carabiner loop on the back if you like to change it up often or want to unhook and hang in your blind or treestand.
A few more of the specifics about this pouch include dual main pocket with a slide-in internal pocket on each side. This is nice for separating your small gear, so it is more readily available. I like to keep my battery pack in one compartment and my phone in the other. I like to think that this helps preserve the battery life of my electronics as the heat from the phone and insulation of the pouch prevent the cold weather from sucking the life out of my batteries.
If you are looking for that perfect pocket to keep all your small hunting accessories, hunting tags, phone safe and accessible the Hunt-Tag Tech Pouch might be a good option for your setup. Check them out and let us know what you think. We continually try to improve our products based on customer reviews and input, so any feedback is greatly appreciated. Feel free to emails us anytime at info@hunt-tag.com.
Also, be sure to get in on our email newsletter for our latest discounts, new products, blog posts, and hunting news. Recently, we have started our Customer Success Program and are offering FREE SHIPPING on all orders over $40.
CUSTOMER SUCCESS PROGRAM
We love to share in the success of our friends and customers because we know it does not always come easy. As a way to give back to everyone that shares their harvest pictures and stories with us we will be offering 1 FREE Hunt-Tag Single. Send us your success stories and harvest pics through email (info@hunt-tag.com), Instagram, or Facebook. We will also be having a yearly Hunt-Tag Best Photo Contest so if you get some good angles you could WIN some free gear too!
---