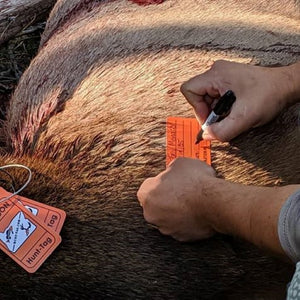 Oregon Hunting Success With Hunt-Tag
Check out some of the early success of Oregon Hunt-Tag customers. We have been getting pictures and stories sent in from all over the state of some hard earned harvests. Everything from spring bear and turkey seasons to antelope and early archery deer and elk seasons our customers have been putting some miles on their boots, food in their freezers, and Hunt-Tags on some horns. Congratulations to all those Oregon hunters that have been successful this year.
We love to receive and share the success stories and harvest pics from our customers and will be having a GIVEAWAY for Best Hunt-Tag Success Photo. To enter, sign-up for our email newsletter and send us your pics to us anyway that is convenient. You can email us at info@hunt-tag.com, contact us on Facebook or Instagram, or through our Contact Us page. At the end of the Oregon rifle elk hunting seasons we will choose a winner. The prize will be a Hunt-Tag hat, 1-Oregon Hunt-Tag System: E-Tag Kit, 1-Oregon Hunt-Tag System: Paper Tag Kit, and 5-Oregon Hunt-Tag Decals.
Good work Michael Davis on an awesome antelope!
So awesome, congratulations to Brian Lizotte on his Oregon Mountain Goat!
Troy Welter with some archery success on a great Oregon bull!
We really want to thank everyone that has supported us and has been able to use our products. We like to hear all feedback, good and bad, so we can meet and exceed our customers expectations. Feel free to email us at info@hunt-tag.com for any questions, concerns, suggestions, or to just share your hunting stories.
---