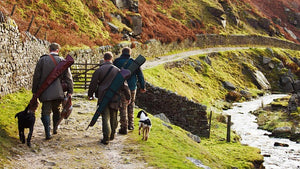 Exploring Oregon's Hunting License Requirements
Are you an outdoor enthusiast with a passion for hunting?
Oregon is known for its diverse wildlife and breathtaking landscapes. It also offers ample opportunities for hunters to pursue their passion.
Before you grab your hunting gear and head into the woods, you must understand obtaining an Oregon hunting license.
This guide will walk you through everything you need to know for your hunting adventure in the beautiful state of Oregon.
Why Do You Need An Oregon hunting license?
Hunting is regulated in Oregon, and obtaining a hunting license is mandatory for residents and non-residents.
An Oregon hunting license serves several essential purposes.
It ensures the conservation and management of the state's wildlife populations.
It promotes safety by educating hunters about hunting laws, ethics, and proper techniques.
It provides funding for wildlife management and habitat enhancement initiatives.
Essential Requirements for Obtaining an Oregon Hunting License
You must meet certain requirements to be eligible for an Oregon hunting license.
These requirements include the following:
Being a resident or non-resident of Oregon
Completing a hunter education course
Residents must provide proof of residency, such as a valid Oregon driver's license or state ID. Non-residents should have an ID from their home state or country.
A Quick Overview of Different Oregon Hunting Licenses
Oregon offers various hunting licenses to cater to different hunting interests and durations.
These include
Special youth hunting licenses
The specific licenses you need will depend on various factors. These factors include the type of game you wish to hunt and the duration of your hunting trip.
Consult the ODFW website for detailed information on the various license options available.
Each license has specific rules and regulations. So doing your research before buying a license is essential.
How to Apply for an Oregon Hunting License
Applying for an Oregon hunting license is a straightforward process.
You can apply online through the Oregon Department of Fish and Wildlife website.
The application requires:
Basic personal information
Proof of hunter education certification
Payment of the necessary fees
Be sure to review the application and provide accurate information to avoid any delays or issues
Unlock Your Oregon Hunting Adventure: Know the License Fees
The fees for Oregon hunting licenses vary depending on the type and duration of the license.
Resident and non-resident licenses have different fee structures.
For instance, the annual license fee for residents is just $34.50. Non-residents can gain access to thrilling hunting opportunities for $172.00. Additionally, there are separate fees for tags and special permits.
Hunting licenses remain effective throughout the period from January 1 to December 31.
Navigating Hunting Regulations: What You Need to Know in Oregon
Before heading out on your hunting expedition, familiarize yourself with Oregon's regulations and restrictions.
These regulations cover
Specific rules for different game species
The ODFW website is an excellent resource. It will give you up-to-date information on Oregon's hunting regulations.
Planning for a Successful Hunt in Oregon
To enhance your hunting experience in Oregon, consider the following tips:
Plan Ahead.

Research the area you intend to hunt, understand the terrain, and identify potential hunting spots.
Be Prepared.

Pack essential hunting gear, including appropriate clothing, camping equipment, food, and water.
Respect Nature.

Follow ethical hunting practices, adhere to regulations, and leave no trace of your presence in the wilderness.
Stay Safe. Familiarize yourself with firearm safety rules and be mindful of weather conditions.
Enhance Your Hunting Experience with Hunt-Tag
Are you ready to make the most of your hunting experience?
At Hunt-Tag, we understand the importance of a hassle-free tagging system. We have designed comprehensive kits tailored to each state's unique requirements.
Our Hunt-Tag kits are meticulously crafted, ensuring hunters have everything to tag their harvests properly. Say goodbye to the worries of staying legal or navigating through complex regulations.
With Hunt-Tag as your trusted companion, you can confidently embark on hunting adventures.
---